Group Fitness! TRX! INDO-ROW! Nutrition! Kids Fitness!
Scroll over images for more information.
Group Fitness

Choose the workout that best fits you, from barbells to yoga, step aerobics to pilates, bootcamp to barre. We have it all, in a beautiful studio setting, manageable class sizes, and a convenient location.

TRX

We offer both private training and group classes on the TRX straps. They are ceiling anchored, with enough space to spread out and mirrors to check your form. Early morning, afternoon and weekend options are available!

Indo-Row

We are one of only a few Indo-Row studios in the area. Water rowers provide an amazing cardio workout while being gentle on the joints. Come experience this craze that is popular all over the country, right in our convenient Sharonville location.

Meal Guide

Download our Game On! Meal Guide and receive more than 20 delicious recipes that will support your healthy living agenda!
Little Black Dress Workout
Owner Amy Smith has perfected this low-impact toning class designed for the female body. This class is full of amazingly targeted toning exercises to help you get ready to wear your Little Black Dress. Belly, buns, arms, thighs and your entire body will thank you for this workout. Classes may include weight training with low weights and high repetitions, resistance bands, and mat work. Rock that dress!
Let's GO lift! This Barbell class will push you to increase strength and muscle tone. Weights range from light to heavy, allowing you to build strength at your own pace. All fitness levels welcome. 
TRX Suspension training is an incredible way to tone the core as well as strengthen the entire body. This a circuit based TRX class which may include some off strap workouts to get the ultimate calorie burn. All fitness levels welcome.
Let's row, Game On Style!
The unique format of Indo-Row® captures all the elements of competitive, on-water rowing, creating a class that is fast-paced and engaging from the first minute. From "Skills and Drills" to "Waves and Recoveries," and the final build up to a friendly but competitive "Race," Indo-Row® quickly converts first-timers to devoted team members.
Indo-Row® is designed specifically for first-time rowers, no experience is necessary. Indo-Rowers burn calories, sculpt muscle and enjoy a fun interval workout in a uniquely motivating, team-oriented fitness environment.
Our trainers at Game On Fitness have been certified with Indo-Row®.
Start your workout out on the right step! Throwing it back with step aerobics, plyometric training and more! Step PLYO Training and Strength training for an amazing workout. Game On Fitness will pay tribute to our favorite classes from the past. You may be throwing it back with your favorite step aerobics class, or busting out a grape vine to "Pump Up the Jam." We will pick our favorite fat burning, fun stepping and weight lifting moves from the 80s, 90's and early 2000 workouts. Don't forget your leg warmers! Game On!
Buns Burn Out with Barbell and Cardio
Buns Burn Out with Barbell and Cardio is a face paced power filled class focusing on the Glutes as well as toning the entire body. You will love the variety of this class! All fitness levels welcome!
This class will make your booty strong and firm! This is a toning class focusing on the lower body. This workout will target the hips, butt, and thighs.
Owner Amy Smith has perfected this class for over 20 years. There is a reason Game On Fitness has Monday nights power packed and energy filled and this is it! High Intensity exercises with weight lifting circuits for strength training. There are so many levels offered that everyone will get an amazing workout.
Let's take the barre workout to the next level. Barre workouts combine yoga, pilates, and ballet. At Game On Fitness, we offer this class with a cardio calorie burn between barre sets! Toning and calorie burning together...What a perfect match for a complete body workout.
Precision Speed and Barbell Split
Burn those calories in powerful intervals. This class is for the beginner as well as the seasoned athlete. Game On!
30 minutes of our Precision Speed workout of high intensity cardio, and agility strength training. Followed by 30 minutes of Barbell strength training.
Mid-Week Rejuvenation Yoga and Foam Rolling
A flow of stretching and lengthening yoga poses focused on recovery and relaxation. Foam rollers may be used to release muscle tension. Perfect class for a great night's sleep. All fitness levels welcome. Great for beginners.
Get a total body workout based around toning pilates moves for the arms, core, hips, and legs.
HIIT IT! GO! Cardio + Athletic Stretch
Get your High - Intensity Interval Training HERE! The class alternates between intense bursts of cardio moves and strength training. Come see why HIIT training has had such amazing results and has fitness buffs so excited. Finish with some deep athletic stretching. All fitness level welcome.
Core Power on Your Lunch Hour
Got 45 minutes? This class will be core focused and ready to rock your midday slump. Cardio and circuits may be incorporated to bring on the calorie burn! All fitness levels welcome! Game On!
Get ready for some serious fun while burning a ton of calories. This powerful class combines circuits and basic training moves with strength training. This motivating workout may be moved outside for even more intense fun!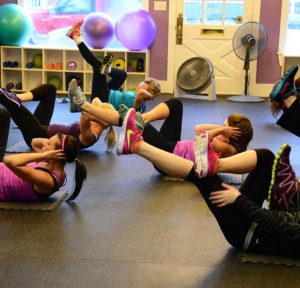 Get a little bit of everything in this bootcamp/circuit style cardio and strength class!
Get your body moving and recover from your workouts. Stretch, flow, and start your day the Namaste way!
Power 20's! Cardio Interval, Kickboxing, and Yoga Burn! 60 min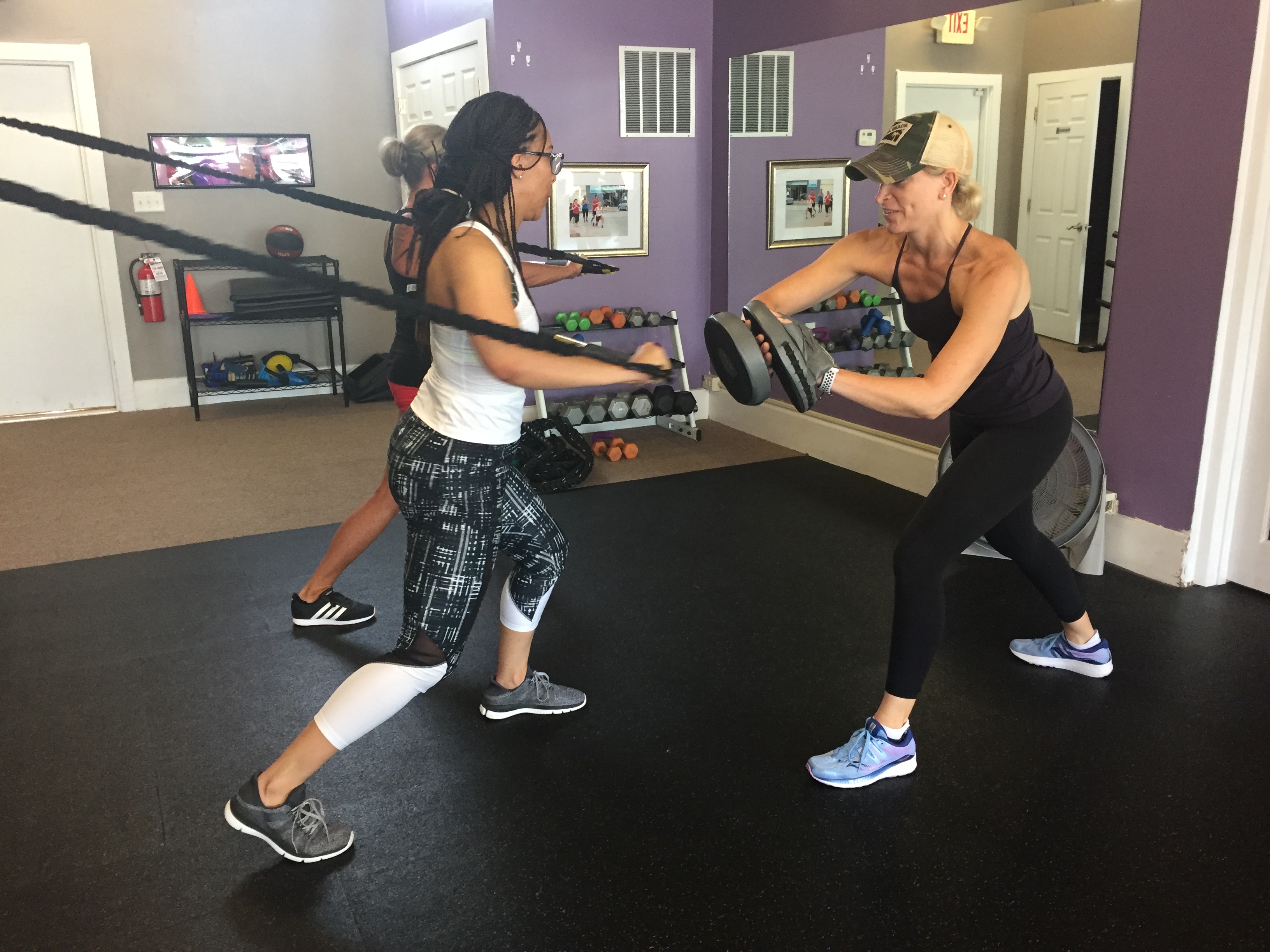 You've seen Amy's Power 20's DVD, now take the class in person! Torch calories with 20 minutes of Cardio Intervals, 20 minutes of kickboxing, and 20 minutes of yoga burn.